Mechanical Fruit Thinning DVD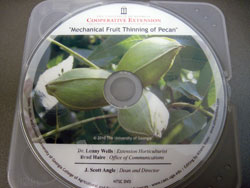 Order your copy of the "Mechanical Fruit Thinning of Pecan" DVD - an instructional DVD on mechanical fruit thinning of pecan by University of Georgia pecan scientists.
Contents
Why are pecan trees "On" or "Off"?
Why fruit thin?
When is the right time to fruit thin?
How much fruit should you remove?
Environmental factors to consider

Price:
$5.00 (payment by check only; made payable to The University of Georgia)
Send payment by check to the following address:
Lenny Wells
UGA Tifton Campus
4604 Research Way
Tifton, GA 31793
If you have any questions, please email Debbie Rutland (drutland@uga.edu) or call at (229) 386-3424.